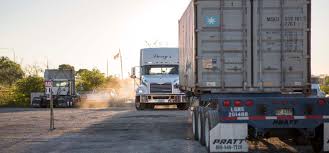 Out of all the refrigerated trucking companies in Chicago, you won't find a single one that can match Larry's Cartage Company, Inc. Larry's is an asset-based regional carrier that offers local and regional drayage from Chicago. Our drivers have been making deliveries throughout the entire mid-West since 1983.
Our Mission
Larry's mission has always been to use the valuable expertise that each member of the company possesses and leverage that into a successful relationship with our customers. By striving to deliver shipments quickly and efficiently, Larry's has built a long-lasting business ethic. "Larry's Way" is the best way! Which is why Larry's Cartage is considered to be the most reliable refrigerated trucking company in Chicago.
The Five Pillars of "Larry's Way"
All of the drivers at Larry's believe in making a steadfast commitment to the values the company holds dear. These five pillars include:
1. Accountability. Our employees, whether they are working in the office or driving a refrigerated truck, are held accountable for their actions, and they are expected to deliver expedient service and keep all equipment well-maintained.
2. Investment. Larry's Cartage believes that the company investment in equipment, which is 100% company-owned, and the hiring of company drivers brings a sense of pride to the work. This pride can be felt by the customers.
3. Resourcefulness. We are always on the search for a solution. We want to solve our customer's needs which is why we offer best-in-class transportation services.
4. Knowledge. One of the greatest assets of our company is our employees. Having long-term employees brings an in-depth knowledge of the refrigerated trucking industry that is so beneficial to our customers.
5. Professionalism. From the highest manager to the newest employee, our staff and our drivers are always courteous and honest. Larry's Cartage Company, Inc. holds employees to a high standard, and they rise to the challenge.
There are so many benefits to choosing Larry's Cartage Company, Inc. When searching through the refrigerated trucking companies in Chicago, you will find that none can beat Larry's. We offer 24/7 pick-up or delivery, and each route is handled by our courteous and professional company drivers. Our rates are competitive, and we are known for our rapid response time on customer inquiries and orders. Our drivers are dependable! Our safety records and our satisfaction ratings from the DOT prove that our drivers care about our customers! Let Larry's Cartage Company, Inc. handle all of your refrigerated trucking needs.